The Fred Rowbotham Image Collection
Fred Rowbotham (1909 - 1999) was district Engineer to the Severn River Authority at the time of his retirement in 1974. His collection of more than 1300 colour slides was built up over 40 years and covers many aspects of the River Severn and its associated waterways. The collection has been digitised and most of the images along with captions may be viewed here. Find out more....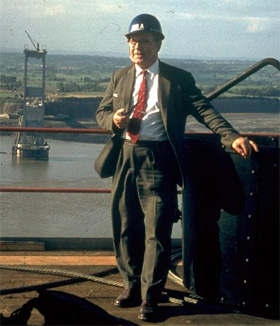 Fred Rowbotham at the top of the Beachley Tower of the First Severn Bridge during its construction.
Enlarge.