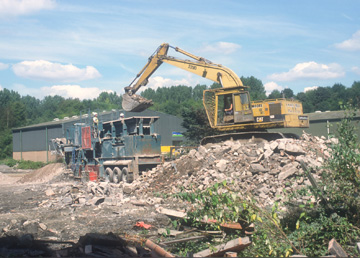 From its humble beginnings in 1867 the firm of R. A. Lister & Co became known worldwide for the diesel engines they manufactured from 1929 onwards. However, in recent years the company, now called Lister-Petter Ltd, have reduced in size considerably. In 2002 the greater part of the site was demolished in readiness for redevelopment.
The large foundry, machine shop and all the other buildings were considered important because of the contribution "Listers" had made to the local economy for so long and the fact that so many people had worked there over the years. A photographic record of the buildings comprising 170 images was therefore made during demolition in the Summer of 2002.
The aim of the photographic record was to take representative pictures of the buildings (large and small) and features such as old air raid shelters, loading bays, bath house interiors, compressors, air plant etc.
To view the images
A selection of these images may be viewed on the Dursley Glos Web site.