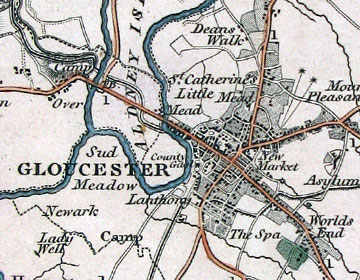 The maps available on this website are arranged into three sections. Click on a section heading to get full details of its contents and access the maps or click on the link provided to go directly to one of the selected maps.
This section includes several early 19th century large scale maps of Gloucestershire: Bryant 1824, Greenwood 1824 and Atkinson (Forest of Dean) 1847 plus the Coaley Inclosure Map 1876.
Ordnance Survey Maps, 1-inch (1:63360) New Popular Edition series, England and Wales, 1940s-1950s.
OS Maps (other than 6 in. to 1 mile)
This includes two 19th century first edition OS 1-inch maps: Gloucestershire and Country Around Evesham, together with the 25-inch County Series map Glos. 49.3 which shows most of Stroud in 1901.