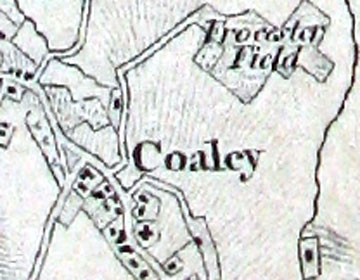 Gloucestershire, 1-inch map, First Edition
(1:63360) Surveyed 1816-30, First published 1831 Revised for railways and reprinted post 1845. An extract of the map is shown on the right. [Courtesy of Gloucestershire Archives]
Country around Evesham, Worcestershire, 1-inch map, First Edition
Some of north-east Gloucestershire is included in this map printed from an Electrotype taken in 1879. It is the first edition of the 1 inch to 1 mile map (1:63360). It was first published in circa 1830 but this printing has been revised to include the railways.
Gloucestershire 49.3 (Stroud) 25-inch map, 1901
Second edition of Gloucestershire County Series map 49.3, Scale 1:2500, Surveyed 1881-82, Revised 1901, Published 1902. The town of Stroud is shown in the north-east corner and the map extends to Selsley in the south west corner.